"Victims of wind energy" conference, anyone?
Jul 21, 2012




Print Article
Is it time to hold another wind energy conference—for the shepherds of the land?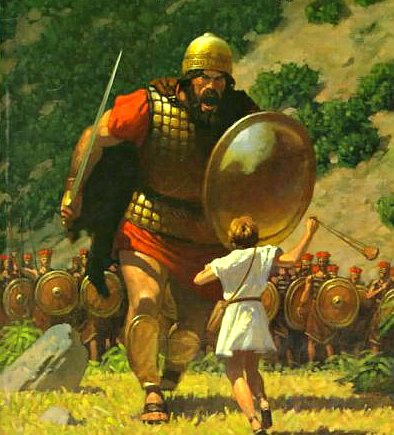 —Calvin Luther Martin, PhD
How many hundreds of groups are there, around the world, fighting wind turbines in their backyards?  The answer is, "lots."  Talk about a grassroots movement that turned into a whirlwind of fury and outrage in every country and every community where Big Wind has dared set foot.
Remember David & Goliath?  Imagine Goliath as a 2.5 MW bully towering higher than the Statue of Liberty, with mammoth rotating blades slicing the air at 200 mph.  Nothing could stop this apocalyptic beast—so thought his corporate sponsors.
Except they failed to calculate the improbable:  the shepherd boy who wasn't corporate at all.  The kid whose infallible weapon was that he was tied to the land.  David was a product of that landscape.  His home.  His fields. His hills.  He knew their powers.  They filled him.
He called those powers, "Jehovah."
The kid was not going to let this giant jackass destroy his landscape.  The Spirit of the Earth detested the Philistine monster, and the Spirit filled the shepherd boy with power and courage—and one helluva aim.
Against all odds, David knew he could take down the monster.  One smooth river-stone hurled from a homemade slingshot, miraculously guided in its trajectory by the Spirit—and the towering, bellowing thing was felled.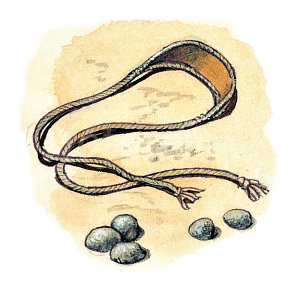 For eight years I have been sitting before this computer screen, corresponding with shepherds all over the world.  Shepherds armed with  nothing more than a smooth river-stone and slingshot and, somehow, filled with the holy fire of the land they occupy—these people have been bringing down Big Wind.
It is time, I think, for the "shepherds of the land" to convene.  From all over the world.  Convene and tell their story—the story of what a colossal obscenity Goliath in fact is.  Obscene to birds and bats and all other domestic creatures and wildlife and habitat and ridge lines and fields and rangelands and marshlands and people's homes and health and sanity and property value.  Obscene to basic principles of physics and engineering and economics.
A thunderous obscenity and altogether a hoax.
Shepherds of the land, let us convene.  Confer.  Somewhere.  Somehow.  Let us brainstorm about how to do this.  All ideas are on the table.  We are a genuine movement.  Let us gather to celebrate and grow this movement.
Withal, may we keep it simple and cheap.  Remember, we're all just shepherds.  Our tools are simple.  Our strength, however, is legendary.  History will remember us as it remembers young David—the improbable hero.
I titled this "victims of wind energy."  Was David a victim of Goliath?  Nope!  He brought the son of a bitch to a full stop.
We will convene as shepherds of the land, not victims of corporate bullying.  The difference is consequential.