River Crossing
Jul 10, 2012




Print Article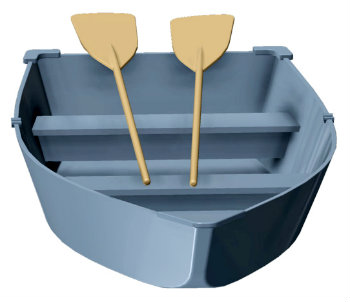 —Calvin Luther Martin, PhD (Spring 1993)
It was 7:30 or so when we set out for Dark Island the other evening, Roland Slocum and I.  He was driving a small open-hulled aluminum outboard, and he had thought to bring along some old army blankets knowing we might get wet.  It had been windy all day—sunny but windy.  By evening it was still blowing hard out of the southwest.  Whitecaps in the bay.
Roland is a kind man.  Typical of him he had spent the afternoon baking pies for the turkey dinner we were having this evening.  They were carefully packed away, still hot, in the bow.  Apple, pumpkin, banana cream.
Out beyond Rob Roy we began rolling and taking on splash.  I folded the blanket around my exposed legs and pulled over a nylon shell, yanking my cap down tighter.  I was facing Roland: a riverman if ever there was one.  The wind neatly parted his hair down the middle, his old horn-rims flecked with water.  He worked the rollers like a seasoned dog working the flock.  No hurry to it.  He eyed each as it came toward us, giving each special attention—playing each note as it was.  A virtuoso of waves.
In the channel, two miles out, he started telling me how he can't swim (I looked around and noticed no life vests aboard).  Not a stroke, he said.  He said he respects the river.  It's not like the ocean, which he fears.  He's a diver, and has many times climbed down into the canyon beneath the channel we were inching over.  To visit the monstrous hulls silently entombed there.
I did not feel uncomfortable with such a man.  It was strangely calming knowing he had already been to the bottom—the river had already consumed him.  Working its steely, tossed surface this evening, the two of us in a small gray boat, I felt eternal.