Wind energy is the "equivalent of the corn ethanol scam" (Bentek Report)
Aug 24, 2011




Print Article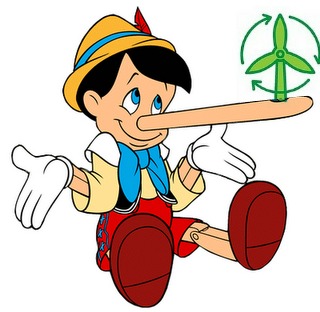 ·
—Randall J. Bell, President, Victorian Landscape Guardians Inc (Australia)
You could be forgiven for wondering why the wind industry and its cheer squad, the Australian Clean Energy Council (which is NOT a Government agency), is going ballistic lashing out at opponents of wind farms.
The reason is simple: the public is waking up to some inconvenient truths about wind.
What happens when there is no wind? There is no electricity. What happens when the wind is too strong and the turbines have to be braked? There is no electricity. What happens when the wind fluctuates wildly and the wind farm is "kicked" off the grid because of surging? There is no electricity, unless it comes from coal or gas fired generators (perhaps a little bit of hydro) which have to be in "hot spinning reserve" constantly shadowing these events. And this is at the cost of consumers at least three times the cost of coal-fired and twice the cost of gas-fired electricity.
But the news gets worse for the industry—which suffered a 7% fall in sales in Europe last year and the continued withdrawal of subsidies—with the release of a new study on 19 July 2011 by USA, Colorado-based energy analytics firm Bentek Energy, discussed in Forbes Magazine 7/19/11.
… from the Bentek website
The Bentek study carries considerable authority because it dealt with real data not computer models and "covered about 110 million customers, or about one-third of the U.S population in four regions."
Because of space I will quote selectively from the article:
… the American Wind Energy Association (AWEA) and other wind boosters have vastly overstated wind's ability to cut sulfur dioxide, nitrous oxide, and carbon dioxide." In California "using wind energy doesn't reduce sulfur dioxide emissions at all."

"But the most important conclusion from the study is that wind energy is not "a cost effective solution for reducing carbon dioxide…"

"Wind's energy carbon dioxide-cuttings benefits are vastly overstated"

"…The study undercuts the sector's reason for existing."
But here is the killer quote. "The wind energy business is the electric sector's equivalent of the corn ethanol scam: it's an over-subsidized industry that depends wholly on taxpayer dollars to remain solvent while providing an inferior product to consumers that does little, if anything, to reduce our need for hydrocarbons or cut carbon dioxide emissions."
·
Denise Bode, CEO, American Wind Energy Assoc., testifying before Congress