Wind energy: Following the money (NY Times)
Nov 11, 2011




Print Article
Editor's comment:  In case you're wondering what's driving the whole wind energy mania, here's your answer.  My brother, a Chicago lawyer, once advised me to "follow the money" when looking for answers to questions like this.  Lipton & Krauss have followed the "clean energy" money—and it turns out it's being taken out of your pocket.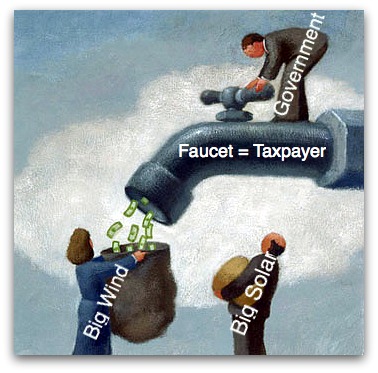 This image was not part of the original article—Editor
.
—Eric Lipton & Clifford Krauss, "A Gold Rush of Subsidies in the Search for Clean Energy," NY Times (11/11/11)
Halfway between Los Angeles and San Francisco, on a former cattle ranch and gypsum mine, NRG Energy is building an engineering marvel: a compound of nearly a million solar panels that will produce enough electricity to power about 100,000 homes.
The project is also a marvel in another, less obvious way: Taxpayers and ratepayers are providing subsidies worth almost as much as the entire $1.6 billion cost of the project. Similar subsidy packages have been given to 15 other solar- and wind-power electric plants since 2009.
The government support — which includes loan guarantees, cash grants and contracts that require electric customers to pay higher rates — largely eliminated the risk to the private investors and almost guaranteed them large profits for years to come. The beneficiaries include financial firms like Goldman Sachs and Morgan Stanley, conglomerates like General Electric, utilities like Exelon and NRG — even Google.
.
Click here to read the remainder of this article . . .