Why not Tent City protests?
Sep 18, 2011




Print Article
·


Why not Wind Turbine Refugee camps?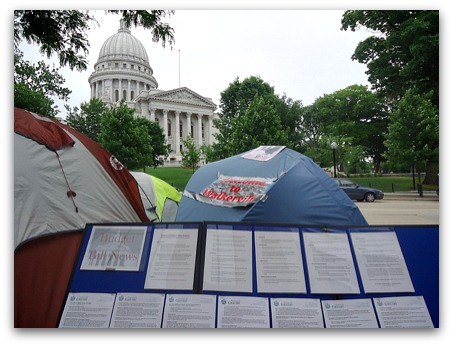 Tent City, Madison, Wisconsin
Bloomberg News yesterday reported a Tent City protest being launched on Wall Street.  "Protesters Converge on Lower Manhattan, Plan 'Occupation.'"
Why not similar Tent City protests in communities in America, Canada, Australia, and around the world where Wind Turbine Syndrome sufferers are being driven out of their homes, being driven to sleep in their basements, being driven to sleep in tents in their backyard, being driven to sleep in their cars or in hotels—or being driven to get no sleep at all?  Communities where wind turbine noise & vibration drive people to serious illness, including the contemplation of suicide.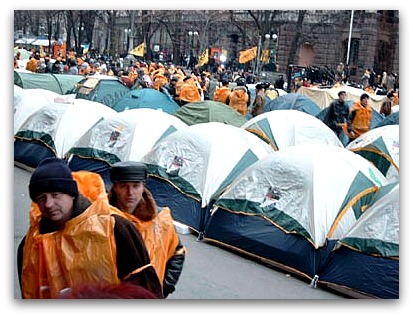 Tent City, Kiev, Ukraine
I have long advocated civil disobedience as the most effective way to respond to wind developers and their government enablers and unscrupulous (often absentee) landowners who allow turbines on their land.  (Government enablers would be pretty much all governments on the face of the earth.)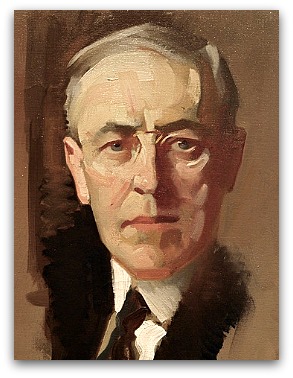 President Woodrow Wilson
National Portrait Gallery painting
If the government is to tell Big Business men how to run their business, then, don't you see that Big Business men have to get closer to the government even than they are now?

"Don't you see that they must capture the government, in order not to be restrained too much by it?

"Must capture the government? They have already captured it."

—Woodrow Wilson, 1913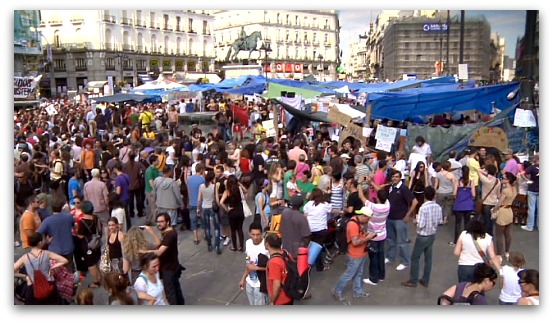 Tent City, Madrid, Spain
I take my cue from Dr. Martin Luther King and Gandhi.  Mostly, though, I take my cue from Henry David Thoreau.  If you have never read his inspired, clear-minded essay, "On the Duty of Civil Disobedience," you must.  It's short.  Twenty-eight pages.  You can read it, um, on the toilet.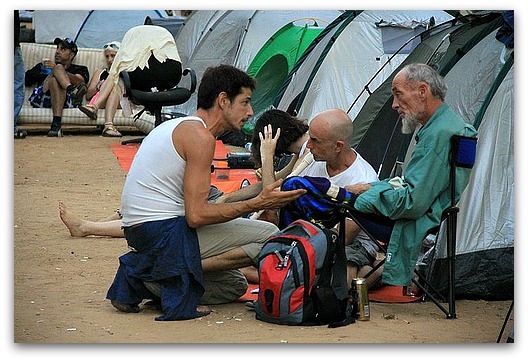 Tent City, Tel Aviv, Israel
Thoreau was a great writer, philosopher, poet, and withal a most practical man, that is, he taught nothing he was not prepared to practise in himself.  He went to gaol for the sake of his principles and suffering humanity.  His essay has, therefore, been sanctified by suffering.  Moreover, it is written for all time.  Its incisive logic is unanswerable."

—Mohandas Gandhi
Here's how.  Set up tents in front of the municipal buildings. Or in a prominent town square/park.
You will need banners, placards, bullhorn, and courage. Courage courage courage. You want to create a 24/7 magnet for the media. The more vociferous you are, the more ruckus you make, the greater the chance of attracting the Big Media. TV, for instance.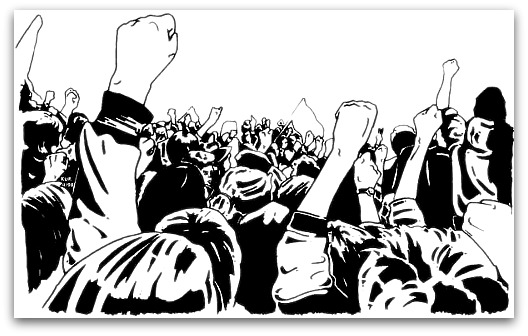 Have your own people out there with cameras and microphones and make this into a big story. All the websites affiliated with WTS.com, around the world, will run your stories. Your videos. Your reports. Your stories will appear in Germany, Poland, Scandinavia, France, UK, Italy, Spain, Australia, NZ, Canada, Japan—just about everywhere except the Moon.
Yes, of course the Big Media and local media will trash your Tent City. To hell with them! We have our own media! Contact Al-Jazeera and ask to have one of their reporters cover the Tent City—then we'll get some honest, big time coverage.
You want to embarrass the b'jesus out of the municipal bureaucrats.  (Is it time to start referring to them as criminals—committing torture against their neighbors?)  Secondly, you want to bring WTS to the attention of the nation.
Cops will threaten you with arrest. Yes, you will have to get arrested. Then go back out there, once you're released. And when it comes to a court appearance, you want a lot of theater there, too.  Drama.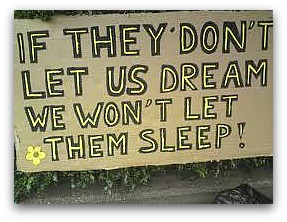 Hell!  When you can't sleep at night because of the damn turbines, grab your sleeping bag and tent and head over to Tent City, Your Town, USA.
Set up barbecues.  Have music.  Poetry readings.  Speeches.  Jugglers.  Acrobats.  Whatever.  Face painting for kids.  Balloons.  It's called "street theater."
It's also called "civil disobedience."
Above all, it's called a "duty."  This, dear reader, is Democracy.  Real Democracy (capital "D").